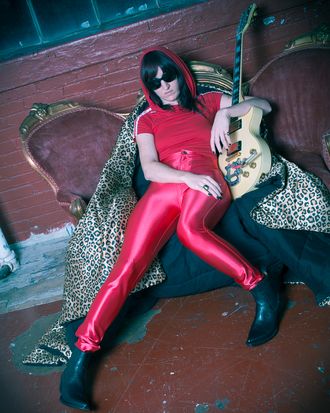 "Nashville by way of Columbus, Ohio rocker Blinn settles into a steady rock groove on her latest release. The hooks that have always anchored her songs are as strong as ever, bursting with an infectious spirit. She may be singing about tough times in songs like "Dreamer's Heart" and "A Little Rain", but she reflects on the moments with an uplifting outlook. All the better that she and the band let loose on the choruses, singing them loud and proud. You should, too." - Mayer Danzig, Twangville 
Erica Blinn grew up with a musician father in a house where music always played. Her influences include a wide variety of rock and roll, pop, and soul music, including favorites Linda Ronstadt and The MC5. Her father encouraged her to begin writing songs as an outlet to deal with her parents' divorce. She fell in love with the harmonica after hearing Magic Dick play on the J. Geils Band record "Live" Full House. 
Blinn is currently on a solo tour in which all of the emotional and energetic dynamics of her full band shine with new integrity through her soaring vocals, punctuated, solid rhythm guitar and inspiring blues harp solos.
***
A new album is in the works. Blinn has recorded eleven new songs, which she wrote*, engineered, produced, and played every instrument on, using a cassette 4 track machine that she repaired herself prior to the recording!
*one of the new songs, "Retirement Plan", is a co-write with Aaron Lee Tasjan.
In addition, 2021 has seen Blinn has been playing guitar in Aaron Lee Tasjan's band and co-writing songs with Tasjan, one of which was recorded by The Whitmore Sisters for their upcoming release on Compass Records. Blinn and Tasjan also helped out with the Darling West song "True Friends" which was on their 2020 Spellemannprisen (Norwegian Grammy) winning album, "We'll Never Know Unless We Try".
---
The 2018 album Better than Gold, was her third time working with producer/engineer Mike Landolt (Maroon 5, Blues Traveler), but her first time recording in Nashville, TN. "About half of the record was done in Columbus [OH] and about half of it in Nashville."Blinn relocated from her hometown of Columbus, OH to the incredible music community of  East Nashville, TN in the Fall of 2015. "This album features a lot of the new friends we've made in Nashville, but the most special part for me was having my Dad in the studio. He came up with the bass part for 'Suzie' and drove down to Nashville to play it on the record." 
The first single, "Softer Side", co-written with Will Newsome, is an upbeat soul-rock number with a twist. The main guitar riff is a percussive, finger-picked groove with a phase shifter effect that calls to mind some '70s era Country music. "When I'm With Suzie (I Do What I Want)" came from a night out at a "secret" venue where a brown bag bottle of tequila was being passed around. "I was heading into the bathroom when I heard a guy say, 'Hey! When I'm with Suzie, I do what I want!' I immediately went home and made up almost the whole song. Then I took what I had to my friend Caitie Thompson and we tweaked some words and came up with the third verse." 
Blinn and her band have logged 30,000+ miles in their van touring nationally. She has also shared stages with names like Magic Dick (The J. Geils Band), Blues Traveler, Lynyrd Skynyrd, The Family Stone, Devon Allman, and Aaron Lee Tasjan, just to name a few.
2014 saw Blinn release Lovers In The Dust on Curry House Records. The album features the handiwork of the aforementioned Mike Landolt. Along with her then backing band The Handsome Machine, the disc was rounded out with guest appearances by Aaron Lee Tasjan, Devon Allman, Andy Harrison (Howlin' Maggie) and Angela Perley (Angela Perley & The Howlin' Moons). Her song "Sexy Mess" spent 8 straight days on the airwaves of Columbus, OH's CD102.5FM in their "Top 5 Most Requested Songs of the Day" playlist, including 3 days at #1. Another tune titled "Lovers in the Dust" was featured on the soundtrack for the full-length feature film Black Windows (Wanderlust Films/Devil Town Productions/Gravitas Ventures).
Press
"A damned fine collection of 11 songs, sounding like a million dollar release, Erica Blinn's second album shows that she has the goods as a writer and the chops as a performer." -Rob Ross, Popdose http://popdose.com/album-review-erica-blinn-better-than-gold/
"Nashville by way of Columbus, Ohio rocker Blinn settles into a steady rock groove on her latest release. The hooks that have always anchored her songs are as strong as ever, bursting with an infectious spirit. She may be singing about tough times in songs like "Dreamer's Heart" and "A Little Rain", but she reflects on the moments with an uplifting outlook. All the better that she and the band let loose on the choruses, singing them loud and proud. You should, too." - Mayer Danzig, Twangville http://twangville.com/27927/mayers-playlist-for-winter-2018-part-1/ 
Album review from L. Kent Wolgamott, Lincoln Journal Star: "Like Raitt, Blinn knows her way around the blues, working them into her rock 'n' roll" http://journalstar.com/entertainment/music/new-music-erica-blinn-mgmt/article_19e1267a-051e-5316-a5b2-2ea6c5e0c53c.html 
"The independent rocker has a Nashville approach to her songwriting, keep it honest, keep it about real life and write great melodies and then, sing your heart out with a kickin' band." - Steph Cosme, staccatofy https://www.staccatofy.com/rock/erica-blinn-better-than-gold-review/ 
"ERICA BLINN PROVES RISING ROOTS ROCK STAR WITH 'BETTER THAN GOLD' (ALBUM REVIEW)" -Jim Hynes, Glide Magazine https://glidemagazine.com/200161/erica-blinn-proves-rising-roots-rock-star-better-gold-album-review/ 
"'A Little Rain' starts off sounding like something leftover from a Petty recording session, but soon takes on a life of its own thanks to Blinn's voice and the lyrics.  Once the chorus kicks in, you get wrapped up in the groove provided by the rhythm section and piano – and just try not to perk up when you hear Erica blow on her harmonica." - Todd "Toddstar" Jolicoeur, 100 Percent Rock Magazine. http://magazine.100percentrock.com/cd-reviews/201802/238465 
"Chrissie Hynde kicks Ray Davies ass, Lydia Loveless opens wine bottles without a corkscrew - and now we have Erica Blinn tearing down and rebuilding motorcycles for fun and recreation. You gotta wonder what Ohio is feeding its daughters! Like her Midwest sisters, Blinn plays a wicked guitar and traffics in self-penned confessionals that straddle vulnerability and menace. But her attack is earthier, bluesier, more soulful. She doesn't explode; she slow-burns. Album opener "Softer Side" recalls a pre-bouffant Bonnie Raitt while Gypsy and Dreamers Heart are all Heartland swagger. The title track Better Than Gold would be all over country radio if life were fair." -Stephen Kilbride, WRFG Radio Free Atlanta 
Dance with the One (Who Brought You Here): "The song is a short, snappy rock song - propelled by Blinn's rich, sultry vocals and her blistering harmonica work." - Ear to the Ground http://ear2theground-music.blogspot.com/2017/09/e2tg-song-premiere-dance-with-one-who.html